What do we know from research?
The research speaks for itself!
In Denmark, the National Board of Health has not yet made any concrete recommendations regarding an upper limit for sedentary behaviour. This is because there is not yet sufficient evidence-based knowledge in this area.
There is, however, a lot of research showing what physical inactivity does to you and your body, and what positive effects movement and variation throughout the day can have on you.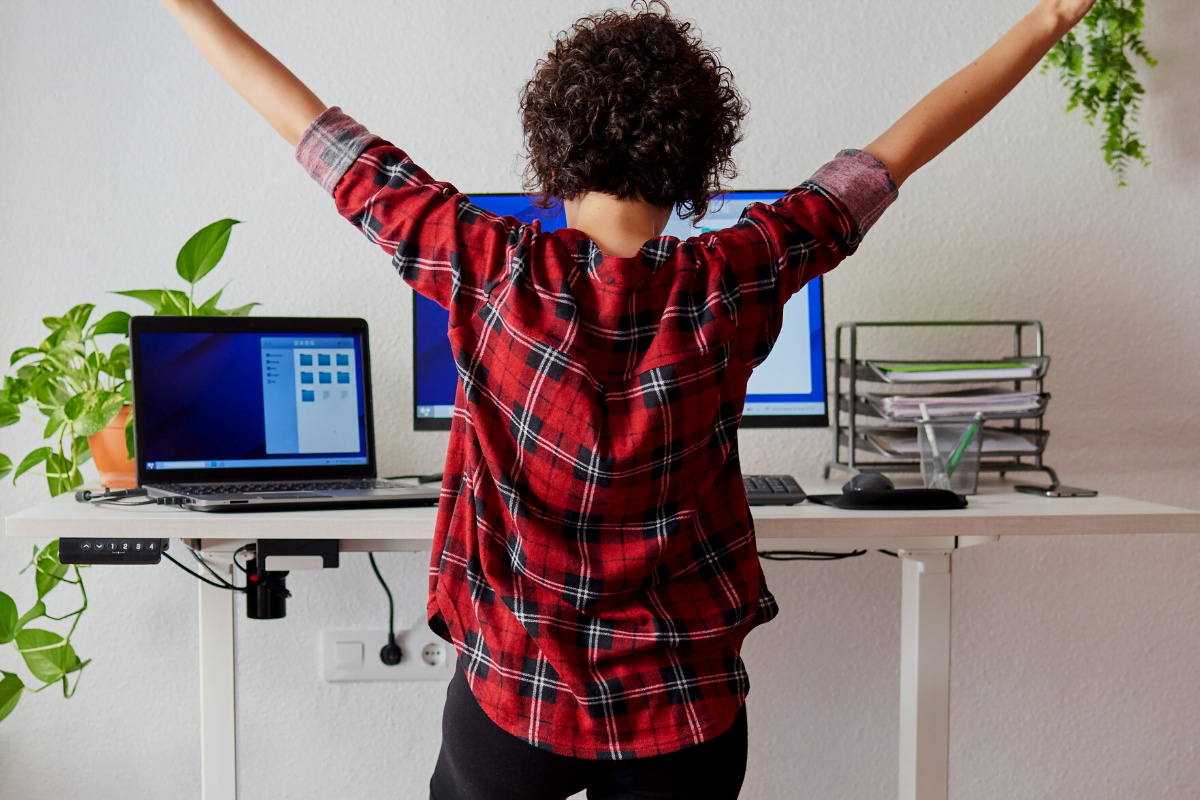 Today, we know that varying your postures throughout the day can reduce muscle and joint pain.
Ida Høgstedt Danquah, a researcher at the National Institute of Public Health, says that "neck and shoulder pain can be avoided by simple efforts. The idea is to interrupt your time sitting down and to actively use your raising/lowering table, alternately sitting and standing in front of the computer".
You can read more about the study here: Less pain by standing up
The "Take-a-Stand Project"
A study from a project called "Take-a-Stand" found a number of benefits from switching between sitting and standing work postures.
For instance, 87% of test participants felt more energetic and 66% felt more productive when switching between standing and sitting postures.
We have compiled the results to the right. You can read more about the project here: The Take-a-Stand Project.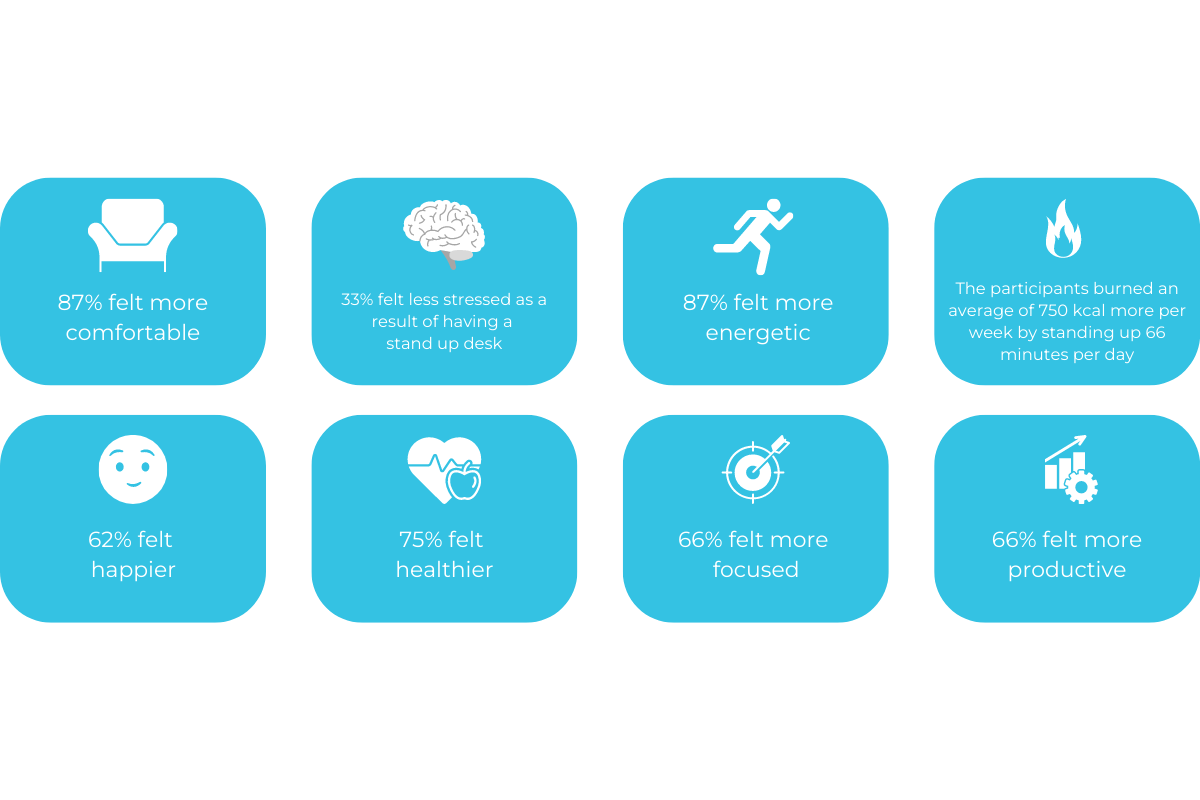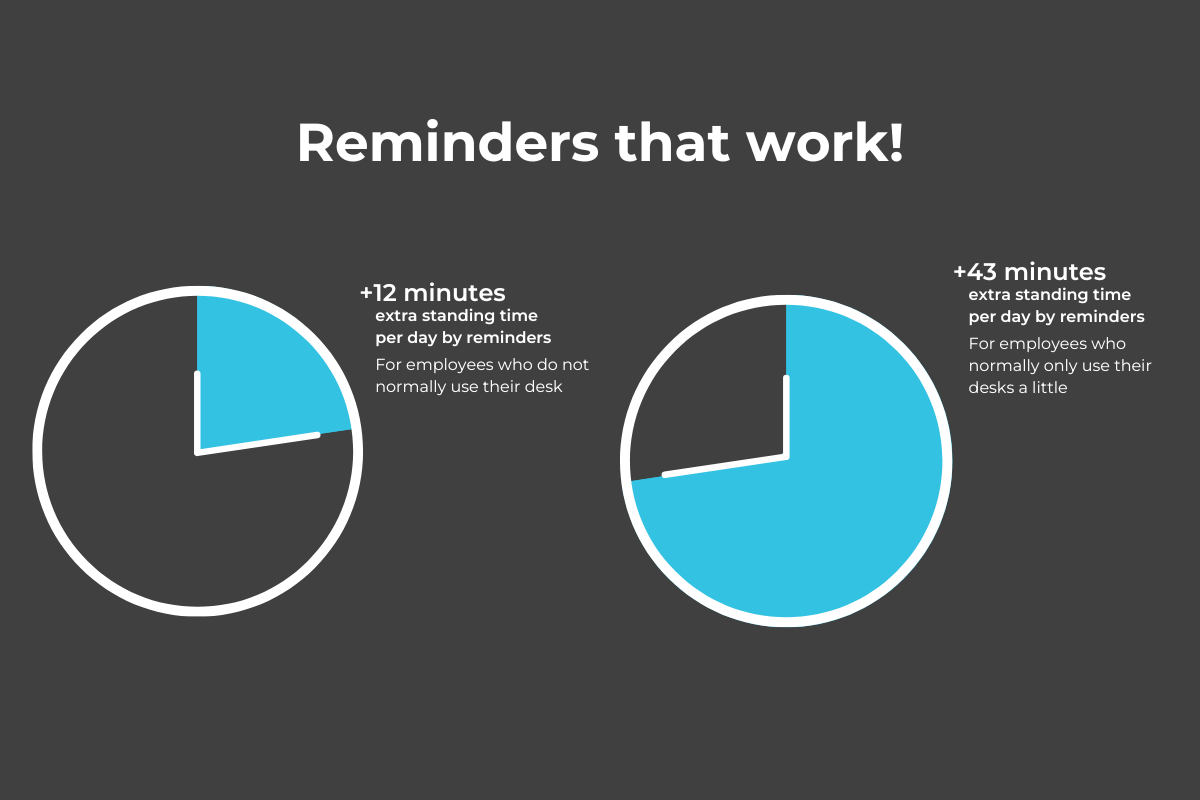 Another study by a Danish agency specialising in behavioural design has shown that reminders stimulate employees to actively use their height-adjustable tables.
People simply forget to raise the height-adjustable tables or lack the motivation to use them to their full potential. But with simple reminders, this behaviour changed. See the result to the left.
You can read more about the study here: Making office workers healthier.
Physical inactivity can kill you
Physical inactivity has been identified as the fourth leading risk factor for death worldwide.
In first place is hypertension, which accounts for 13% of deaths globally. In second place is tobacco consumption (9%), followed by high blood sugar (6%) in third place.
Meanwhile, physical inactivity poses a greater risk of global mortality (6%) than overweight and obesity (5%), which are otherwise widely contested.
You can read more about the World Health Organization study here: Global Health Risk: Mortality and burden of disease attributable to selected major risks.